Software-defined storage industry – present and future
Hardware-defined storage solutions are slowly becoming obsolete. The data is crystal clear: the future belongs to the software-defined storage (SDS). The Software-defined storage controller software or SDS-CS is a crucial part of the SDS environment. It's responsible for most of the critical tasks, such as abstraction, orchestration, protection, and managing storage resources within a proper heterogeneous environment.
The positive economic outlooks for growth in the SDS industry
According to a 2019 market report by IDC, the market will continue to grow at a five-year compound annual growth rate (CAGR) of 14.7% during the forecasted period – doubling in size from $2.2 billion in 2018 to $4.4 billion in 2023.
From this dynamic growth, the report also states that it's the HCI or the Hyperconverged deployment type to be the workhorse of this growth until 2022, with HCI providing up to 25.2% of the annual growth rate. 
The three central locations of this growth are The Americas, The Asia/Pacific, and the EMEA region, with 27.4%, 21.4%, and 7.8% on a five-year CAGR.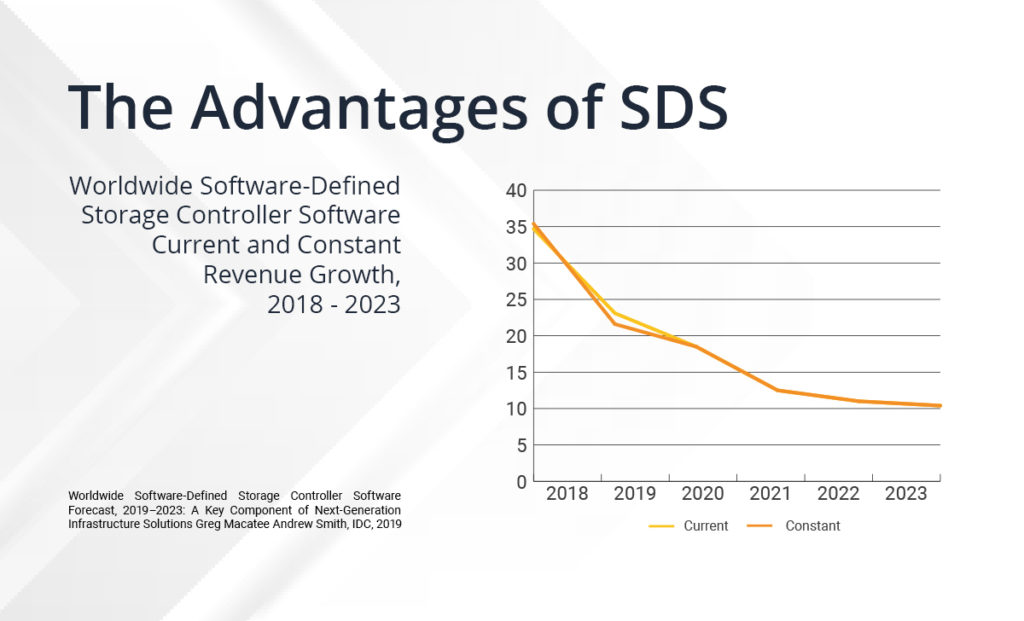 Market Trends and Developments in SDS
According to the report, several important factors will determine the market in the near future, such as:
Growing infrastructure composability – from 27% in 2018 to 32% in 2020 of infrastructure provisioning has employed infrastructure composability.

Buyers being open to cloud repatriation when feasible and cost-effective – the report is clear that hardware-defined storage will still have a part to play into the near future. A 2018 Cloud and AI adoption study reveals that about 30% of customers are only using a single cloud environment. The remainder combined different cloud platforms and reported moving an average of 50% of their public cloud applications to be hosted on private or on-premise locations. 

Continuous improvement of SDS by the open-source community – the community continues to grow with further contributions from industry-wide vendors.

Automation and consolidation of IT operators – the industry's development sets higher demands on the IT personnel, who need to perform different additional duties from security to AI management, etc. 

Growing demand for IT to create customer-facing initiatives and contribute to the overall positive customer experience – businesses need more involvement from their IT departments. They are increasingly tasked to manage a range of tier 1 applications that may reside in hybrid and multi-cloud environments. As a result, this can push customer demand for more SDS solutions.

VSAN architecture – what is it and what makes it special 
Virtual Storage Area Network or VSAN and traditional storage arrays can share some characteristics, but the overall behavior and function of Virtual SAN are different. 
There is no need to deploy and maintain separate arrays, storage networking hardware, and cabling.

VSAN doesn't need external storage to keep virtual machine files.

VSAN automatically turns the local physical storage resources into a single pool of storage. Traditionally, the storage administrator needs to preallocate storage space on separate storage. 

 When you have a storage policy-based management with VSAN, this removes the necessity to provision and maintain numerous LUNs, volumes, and data services.

Data replication technologies, such as data deduplication and compression, provide greater storage efficiency.

Easy & affordable scale-out or scale-up provisioning model: add the necessary component to the available VSAN cluster

You don't need a dedicated storage administrator.
How exactly does LINBIT® VSAN work and reduce your overall OpEx and CapEx?
The unique features of VSAN can help you lower your capital and overall expenditures in several ways:
VSAN removes the Expensive Storage

VSAN removes the Expensive SAN Switches

VSAN doesn't need to pay anything for Support subscriptions to the expensive hardware storages

VSAN Reduces electricity consumption

VSAN Reduces operational costs by eliminating System administrators for storages and switches
Find out more about our SDS platform in our
LINBIT VSAN
webinar series!
LINBIT VSAN works seamlessly with all hypervisor types such as Vmware, Hyper-v, Xen, Proxmox, and gets continuously developed and upgraded. Gain further knowledge of its simplicity, agility, and manageability in our webinar series consisting of three parts:
a high-level introduction part

a business-side focused part

a tech-focused part
Now it's your turn to see what LINBIT VSAN can do for you in your infrastructure, and for the ones among you that are more interested in personal guidance, feel free to reach out by requesting a free trial for LINBIT VSAN. In either way, we are happy to support you along your SDS solution consideration process.